Where is the fat in meat?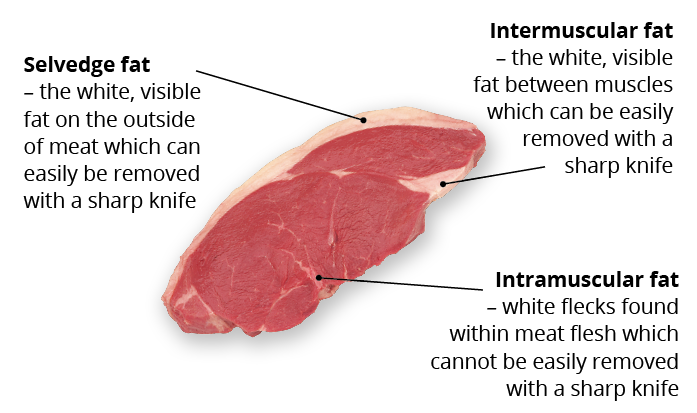 How does lean, semi-trimmed and untrimmed meat compare?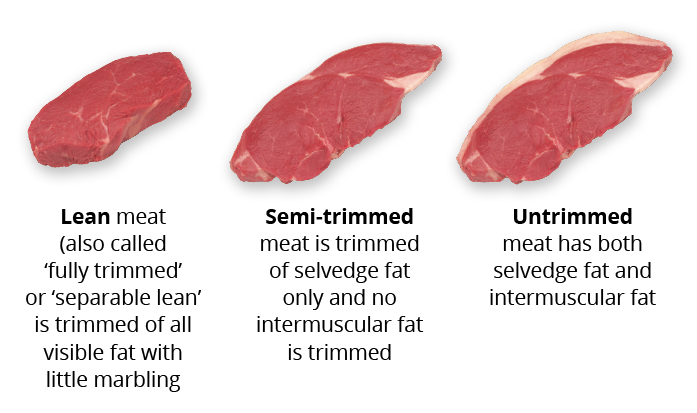 What is the fat content of meat?
Since Australian beef, lamb and goatmeat have a low level of marbling, the major determinant of fat content is the amount of separable fat found either on the outside of meat (selvedge fat) or between muscles (intermuscular fat).
Separable fat is easily removed using a sharp knife. When trimmed of all separable fat, fat content is between 2-6% for raw beef, 3-7% for lamb and less than 2% for goatmeat.
Fat content of Australian beef tends to be lower than meat produced in the UK or the US.
What type of fat is found in meat?
Australian beef, lamb and goatmeat contain similar levels of saturated and monounsaturated fats, ranging from 40 to 50%, with lower levels of polyunsaturated fat ranging from 11 to 29% of total fatty acids.
The difference in the fatty acid profile of selvedge, intermuscular and intramuscular fat is small with slightly more monounsaturated compared to saturated fat in the lean component and more saturated compared to monounsaturated fat in the fat component.
Because Australian meat is predominantly grassfed, beef, lamb and goatmeat available for purchase in Australia are sources of long-chain omega-3 fatty acids, containing higher levels of DHA, EPA and DPA than meat from the UK or the US.
The total trans fatty acid content of lean beef is, on average, 4% or less of total fatty acids. For lean lamb it is 5% or less.
How many Australians eat lean meat?
Around 80% of Australians eat their meat trimmed of visible fat – this has increased from around 40% in the 1980s.
Where can I buy lean meat?
Lean meat is widely available with little difference by state or socio-economic region. A survey of beef mince in 2010 found 48% of samples had fat content less than 5g/100g with no significant difference between the types of mince available for purchase in low compared to high socio-economic suburbs.
The most commonly available beef mince had the lowest level of fat content with, on average, 4.1g/100g fat. In comparison, the fat content of mince with the highest level of fat was, on average, 10.4g/100g.

Has the fat content of meat changed over the years?
The fat content of Australian beef and lamb available for purchase has decreased significantly. For example, the fat content of a rump steak available for purchase in 1982 was 16.7g/100g. In 2002, with new butchering techniques, a rump medallion trimmed of all visible fat had a fat content of 4.6g/100g.
Similarly, a lamb loin chop in 1982 had a fat content of 32.3g/100g. In 2002 the fat content had decreased to 7.1g/100g.
Does cooking affect the nutritional value of meat?
Other than moisture loss, there is little difference in the nutritional value of raw and cooked meat. Up to 30% of moisture is lost with cooking, hence 100g of raw meat is equivalent to 70g of cooked meat.
References:
Droulez V, Williams P, Levy G, Stobaus T, Sinclair A. Nutrient composition of Australian red meat 2002. 2. Fatty acid profile. Food Australia 2006;58:335-341.
Bowen J, Baird D, Syrette J, Noakes M, Baghurst K. Consumption of beef/veal/lamb in Australian children: Intake, nutrient contribution and comparison with other meat, poultry and fish categories. Nutrition & Dietetics. 2012;69:1-16
Williams P, Droulez V. Australian red meat consumption – implications of changes over 20 years on nutrient composition 2010; 62(3):87-94.
Fayet-Moore, F.; Cunningham, J.; Stobaus, T.; Droulez, V. Fat Content and Composition in Retail Samples of Australian Beef Mince. Nutrients, 2014, 6, 2217-2228; doi:10.3390/nu6062217
Cobiac L, Droulez V, Leppard P, Lewis J. Use of external fat width to describe beef and lamb cuts in food composition tables. Journal of Food Composition and Analysis 2003;16:133-145.
Food Standards Australia and New Zealand, NUTTAB 2010 online searchable database, accessed at http://www.foodstandards.gov.au/consumerinformation/nuttab2010/nuttab2010onlinesearchabledatabase/onlineversion.cfm